Event :: Jazzy & Classy Music Event @ Eko Hotel This Saturday 12th Sept 2015 | @IamWoleOni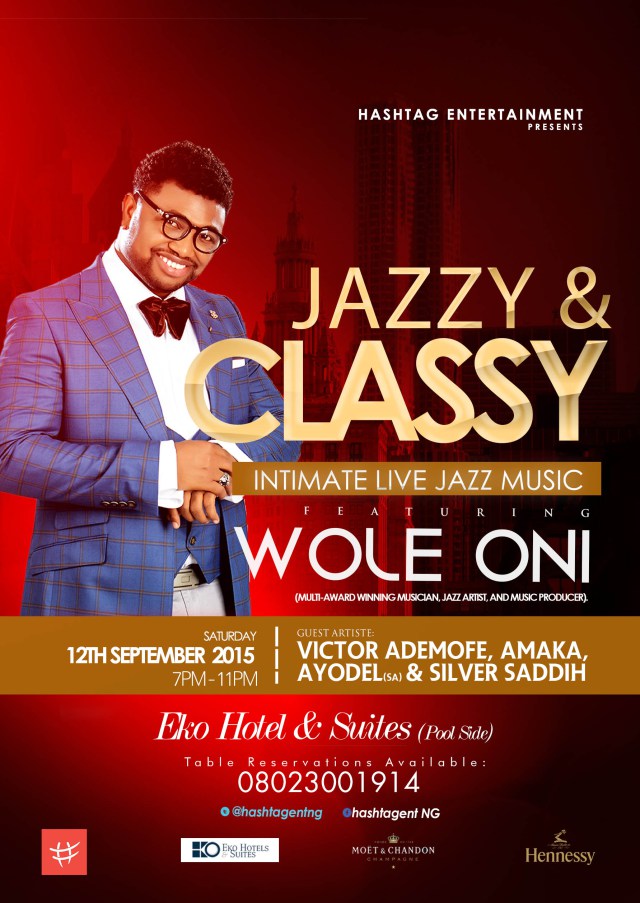 JAZZY & CLASSY! – QUALITY LIVE & INTIMATE MUSIC EVENT FOR ADULTS (35+)AT LAST.
This Saturday, 12th September 2015, at Eko Hotels and Suites, from 7pm, guests will be treated to the very best of live music, with a cast of phenomenal instrumentalists, amazing vocalists, great ambiance with tasty food, and an assortment of continental drinks. You wanna dance, network with corporate friends, or just take the wife, hubby, partneror friends out, this is the place to be this weekend for sure.
'JAZZY & CLASSY' is that contemporary Jazz live music show, with various interpretations of classic Jazz tunes,ageless classics, and various expressions of todays Afro-Pop beats coming out of Africa and beyond. Senior management executives of organizations, high net-worth individuals, and mature individuals, who want the right kind of music, real singers, the ideal networks, quality of attendees, and a fun-filled fantastic evening, are expected to attend.
The cast of musicians and artistes will be lead by the multi-award winning international music producer, Mr Wole Oni. A consummate jazz artist, Mr Wole Oniis internationally recognized, and has played with some of the biggest global artistes and in several international venues worldwide. He will be supported by accomplished artistes such Victor Ademofe, Amaka, Ayodel (from South Africa), and the infamous Silver Saddih. The Classic 97.3 FM radio legend, Queen Ahneva, will be hosting the show, and the surprise comedian invited has been quoted as saying "all mature singles should be attending events such as this, because I am seriously searching".
The event is being organized by Hashtag Entertainment Nigeria, an organization with a reputation of seasoned and very successful in-bar entertainment experience in the United Kingdom, working with established Nigeria partners, to achieve a continental appeal.
The 'JAZZY & CLASSY' event is free, but table reservations attract a small fee. For enquiries, please call Martha on 08023001914. Please call now to book your seats to avoid the rush, seating very limited. Truly, this is not an event to miss.
This 'JAZZY & CLASSY' event is powered by Hennessy Nigeria, and supported by Instinct Productions Limited, Hashtag Entertainment, and Eko Hotels& Suites.
The event detail is Saturday, 12th September 2015, 7pm, at the Eko Hotels & Suites (Pool Side).
@HashtagentNG @IamWoleOni @HennessyNigeria
---
Permission to copy/use quotations from this article is subjected to appropriate credit being given to

www.gmusicplus.com

as the source with a link-back.
---