GMP Exclusive: Vashawn Mitchell Talks Upcoming Album "Elements" & More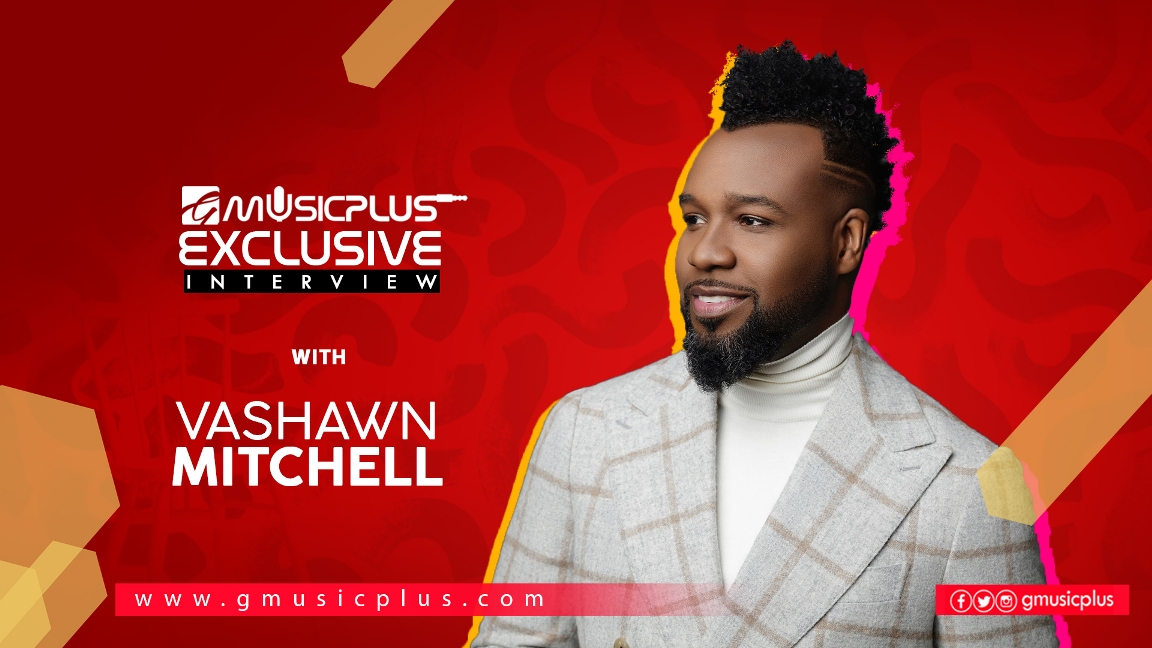 VaShawn Mitchell is a Grammy nominated American singer-songwriter who was Born and raised in Harvey, Illinois. He is well-known for his hit single "Nobody Greater" which was the most played gospel song of the year in 2011 and spent a combined total of 9 weeks on Billboard's Gospel songs chart. He has also produced several Stellar Award-winning projects and songs for Grammy Award winners Vanessa Bell Armstrong and Smokie Norful.
Vashawn Mitchell is gearing up to release his new full-length album "ELEMENTS," due this summer. SON of Gmusicplus.com recently caught up with Multiple Stellar Award winner to discuss the forthcoming project, Inspiration and More. Get into the inspiring interview below;

Gmusicplus (SON): Could you share with us the inspiration behind this project, Title, and the challenges faced while making it?
Vashawn Mitchell: The title of the New project is: Elements – When the world is in a constant state of crisis, the soul desires comfort in the face of chaos. "ELEMENTS" represents my heart's response to the cry from the earth for answers in the middle of tumultuous times.  Over my 20 year journey in the gospel music industry, I've seen every season imaginable….seasons of apparent professional success to seasons of utter failure. I've experienced every emotion one can imagine.  There were days of happiness and excitement and joy and other days of anxiety, depression and sadness – all while ministering the Gospel of Jesus Christ.  Walking the listener through my interaction with Jesus along this journey is the inspiration behind this project.
Gmusicplus: Give us a glimpse of ELEMENTS: who are you working with? Producers / Featured artistes (If Any), and when will the new record be released?
Vashawn Mitchell: Produced by: Thomas Hardin, Jr, Jeff Pegues, Abraham Poythress, James Wadell, Tyrone Jackson & Myself  Some of the featured artist include: Lisa Page Brooks & Khaya Mthethwa along with some of my singers.  Album will be released in August of this year.
Gmusicplus: What should we (listeners) expect from this album, and How would you say "ELEMENTS" stands out in your discography?
Vashawn Mitchell: Listeners can expect to realize and experience the power of God in their lives through every song.  This project is my life testimony over the 20 years of being in the industry and how God has proven himself over and over again.  Elements is probably the most personal project I've released thus far.
Gmusicplus: Was there a song on this record that was particularly challenging to write?
Vashawn Mitchell: One of the most challenging songs to write was – "May Have to Wait". It's a song that declares the wait is ok because God's word never fails.  In my life right now waiting on God to move has been hard but my faith remains strong.
Gmusicplus: Could you share with us the story behind the first single, "God Can Do Anything"?
Vashawn Mitchell: "God can do anything " – This song serves as a reminder about the supreme power of God. We need to believe God not just to give us tangible things, but that remember He has all power and is in control of our lives.
Gmusicplus: Any new single/video expected to drop before "ELEMENTS" official release?
Vashawn Mitchell: We will drop videos from the live studio session along with the project and then a concept video later for Wind of God!
Gmusicplus: A bit of fun – What would be your perfect holiday scenario?
Vashawn Mitchell: A perfect holiday for me is to spend time with my grandmother and eat her cooking, act like a kid again with no worries,  just having fun lol
Gmusicplus: What's the first record/tape/album you remember buying?
Vashawn Mitchell: Rev. Milton Brunson & the Thompson Community Singers
Gmusicplus: What's that one song you have stuck in your head these days?
Vashawn Mitchell: The one song that's stuck in my head is "Way Maker' by Sinach
Gmusicplus: 3 Things we don't know about Vashawn Mitchell 
Vashawn Mitchell: Facts about Vashawn Mitchell
I golf – lol
Love to watch cartoons
I am an introvert
Gmusicplus: Thank you so much for your time.
Connect with Vashawn Mitchell on social media via @VashawnMitchell
Copyrights © 2019, Gmusicplus.com
---
Permission to copy/use quotations from this article is subjected to appropriate credit being given to

www.gmusicplus.com

as the source with a link-back.
---