Sister Trio VIRTUE Releases TESTIMONY: RELOADED In Stores and Online Today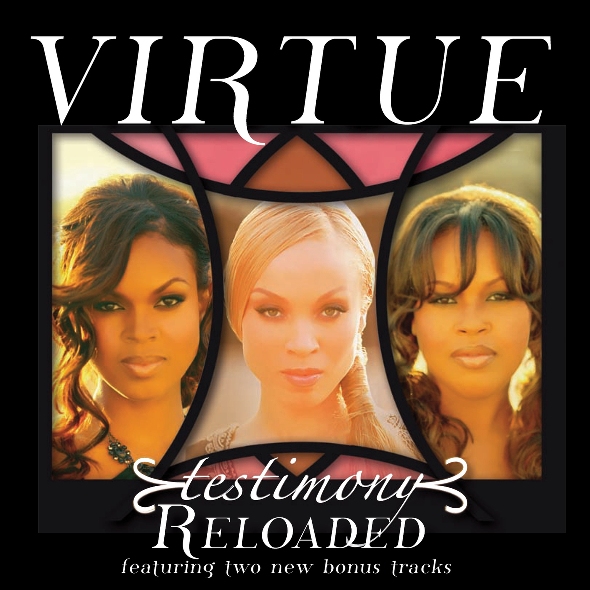 Mixed Bag recording artists Virtue (Karima Kibble, Heather Martin, and Ebony Holland) releases TESTIMONY: RELOADED available in stores and online today (https://itun.es/i6Bw4qV ). TESTIMONY: RELOADED is a revamped version of their Grammy-nominated album Testimony – their last studio release. The album features two new tracks including the group's current Billboard Top 40 radio single "You Are" and the un-released Fred Jerkins (Beyonce, Destiny's Child, Michael Jackson) produced track "You Deserve" which is currently streaming exclusively on their website at www.VirtueGirls3.com as well as DaGospelTruth.com for a short period of time.
>
Originally released in 2006, the album boasted the hit single "Follow Me" (peaked at #3 on Billboard's Gospel Airplay Chart) among its inaugural set of tracks and appearances from Stellar and Dove Award winning artist Martha Munizzi as well as production from Grammy® Award winning producer Fred Jerkins.
The group has been aggressively promoting their current single "You Are" with high profile appearances, interviews and features on The Yolanda Adams Morning Show, The 46th Annual GMA Dove Awards, The Lonnie Hunter Show, The Atlanta Journal Constitution Newspaper, The Christian Post, SoulBounce.com, and Essence.com – who recently named the group as one of its 16 Gospel Artists to Watch in 2015 to name a few.
Virtue is set to perform on The Word Network's 'Rejoice In The Word' special on Friday, February 20, 2015 at 8pm EST/ 7pm CST hosted by Bishop George Bloomer. The group will also join The Walls Group, Kelly Price, Ricky Dillard, Dorinda Clark-Cole, Earnest Pugh among more in Chicago to perform at the Allstate Gospel Superfest on Saturday, March 21, 2015 at the House of Hope Arena at 6pm.
TESTIMONY: RELOADED will tide gospel music lovers over until spring 2015 when the trio's sixth full-length studio album is due.
About Virtue:
With a coveted Dove Award win, Grammy and Stellar Award nominations, over 500K in career sales and nearly 15 years of memorable music to their credit, Virtue embarked on a journey of sonic excellence that would lead them from humble Southern beginnings to the top of the gospel charts with signature hits like "Get Ready," "Put Your War Clothes On," "Til' You Believe," "Lord, I Lift My Hands," and more.
Their discography shines on the hems of five studio albums – VIRTUE (1997), GET READY (1999), VIRTUOSITY (2001), FREE (2003), and TESTIMONY (2006) – that brought with them no shortage of critical and commercial acclaim. With a trail of gospel gems in their rearview, the sensational sister act is looking to forge a new path with their long-awaited comeback project.
---
Permission to copy/use quotations from this article is subjected to appropriate credit being given to

www.gmusicplus.com

as the source with a link-back.
---